KeePassium 1.26 released
KeePassium 1.26 brings improved multi-device access, entry history management, attachment gallery and more.
Improved multi-device access
Keeping the database on a server is a convenient way to keep all devices in sync. Create a shared databases with your work team or family, and they will always have the latest passwords. But what would happen if you and your colleague edit the same database simultaneously? Well, nothing good. In the best case, your cloud would have two slightly different databases. In the worst case, earlier changes would be overwritten and lost.
Starting from today, KeePassium checks the remote database before saving changes. If the remote file has changed since it was loaded by KeePassium, the app will warn you about the sync conflict.
the app will ask you whether to overwrite the remote database or save changes into a different file.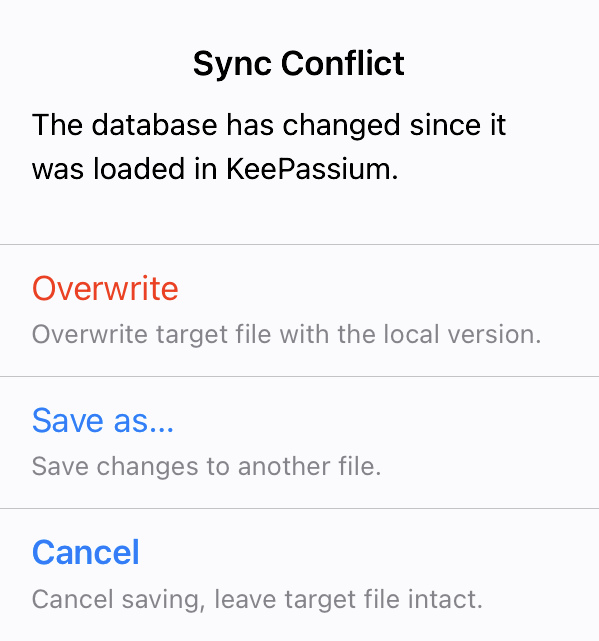 For the moment, you can choose to overwrite the database or to save it as a new file. One of the future updates will add possibility to merge your changes into the shared database.
Entry history management
Did you know that whenever you edit an entry, KeePassium keeps its previous revision? This comes in handy if your newly generated password is rejected by a web service — you can always view the entry as it was before.
With this update, you can also restore an entry to its previous revision, as well as delete old revisions you don't need.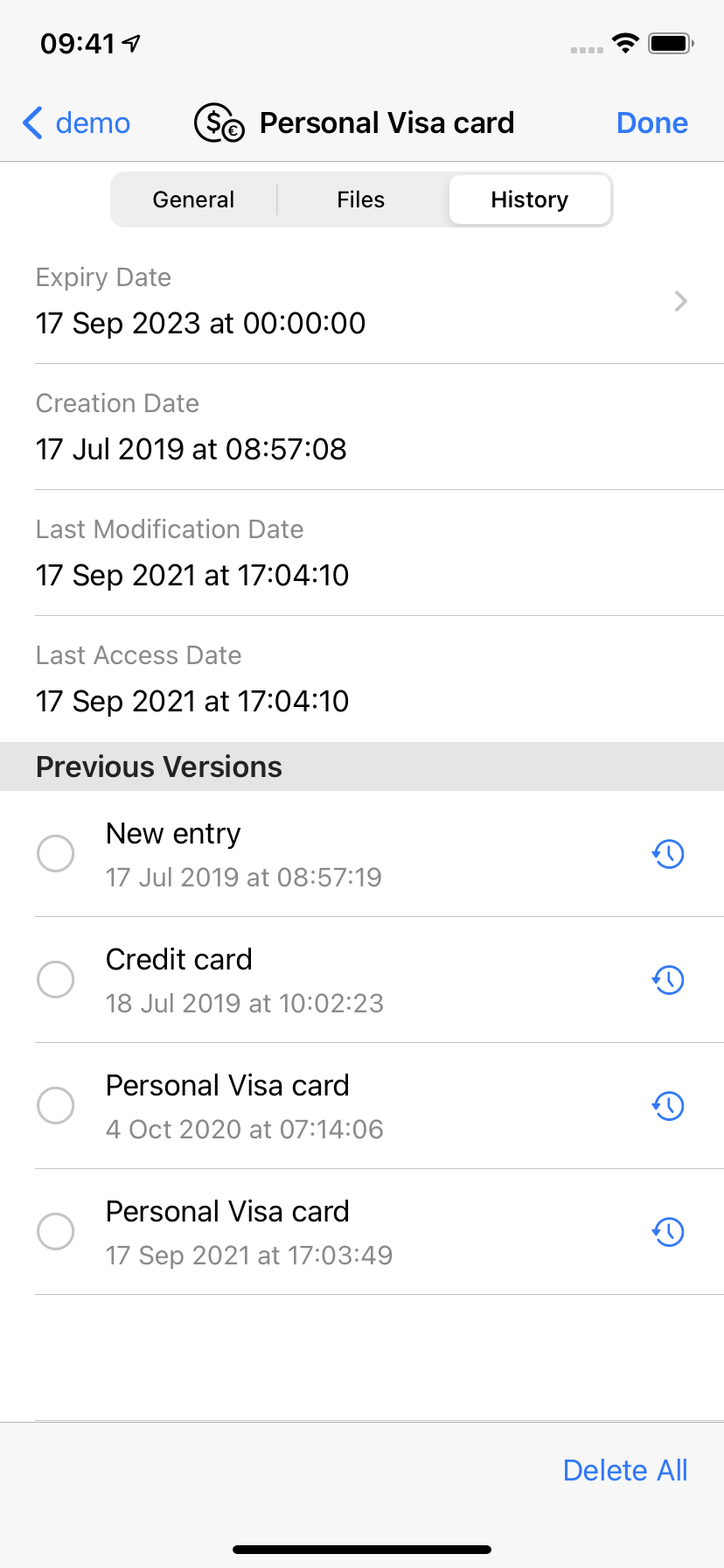 For the entries with limited lifetime (such as credit cards) you can set an expiration date. After the deadline, the entry will be shown stricken out.
Attachment gallery
Now you can easily attach pictures from your Photo Library or directly from the camera. This comes in handy for sensitive documents or family photos.
Once you have several files attached, tap
and swipe your attachments as a gallery.
And when you need to clean up your database, you can delete attachments in bulk. (Previously, it was a one-by-one ordeal.)
…and more
Internal restructuring
KeePassium did not publish any updates this summer, but for a good reason.
Over the years, KeePassium has outgrown its original architecture. Adding new features was becoming increasingly difficult. So we took three summer months to refactor the app, making it smaller, modular and easier to improve. This work is not immediately visible, but it definitely streamlined the future development.
The app and AutoFill use the same files now
For a long time, the main KeePassium app and its AutoFill module had separate/independent file lists. Caused by a technical limitation of iOS, this was a major usability problem. Hundreds of people confused, hundreds of support emails answered.
Good news: the technical limitation is gone in iOS 14, so the main app and AutoFill now work with the same databases, like a single app.
Free multiple databases loophole
The ability to use multiple databases has been one of the first premium features. However, in some cases it was possible to use multiple databases in the free version as well.
Closing the loophole is complicated and not worth the time, but now KeePassium will at least notify the user that switching between databases is a premium feature. For the moment, the affected user can still bypass the notification using the "Continue" button.
MacOS version also got better
KeePassium for macOS has received an improved keyboard navigation, main menu, hotkeys and numerous UI refinements. It is still a work in progress, but it's getting better.