Easy to use KeePass for iOS
KeePassium combines the security of KeePass with a clean intuitive design. Protect yourself using strong passwords — without remembering or typing them.
Privacy
There are no ads, no trackers, no analytics. We sell the app, not the users.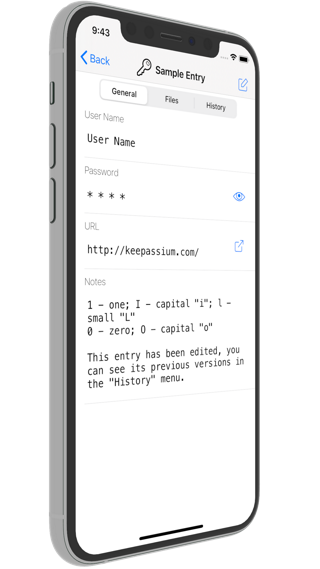 Works with YubiKey
KeePassium supports databases protected with YubiKey hardware token. Our YubiKey integration is compatible with the challenge-response method used in KeePassXC and Keepass2Android.
Flexible
Customizable password generator, custom entry fields, custom icons. You can also preview and export attached files, too.
Compatible
KeePassium works great with other KeePass apps, be it KeePass itself, KeePassXC, KeePassDroid, Keepass2Android or other KeePass-compatible app. KeePassium supports all the current database formats: kdb (KeePass 1.x), kdbx3 (KeePass 2.34 and before) and kdbx4 (KeePass 2.35+), and relies on time-proven implementations of AES, ChaCha20, Twofish, and Argon2 algorithms.
Safe
Everything is backed up: each entry keeps its history, deleted entries end up in Recycle Bin, and each database is copied before saving. (And you can disable any of these.)
Playing with the @KeePassium iOS beta — NFC support with my YubiKey 5 is looking stellar! I've been waiting for a solid iOS app that implements @KeePassXC's Challenge/Response design.
Great app!
Definitely the app to use for keeping passwords. I use KeePass XC on my PC and KeePassium on my iOS devices. The two apps work quite well together, using cloud storage.
Exquisite
When I initially installed KeePass on my PC, I got second doubts as to whether I'll be able to use it with my iOS devices. I stumbled upon this app and I am blown away at how polished it is. Truly, apps like these are the soul of open source. Keep it up!
Best App for KeePass
I did not found better app for KeePass for my IPad. This one is better that everything I've tried. It look better, has all the options I need and support all the latest OS features.
Free

Free

Biometric Unlock
Auto Sync
Auto Fill
1 Database

Community support

-
-
Premium

€14.99

/ year

or €1.99 / month

Biometric Unlock
Auto Sync
Auto Fill
Unlimited Settings
Unlimited Databases
Priority Email Support
Works with Family Sharing
-
€49.99

once
Biometric Unlock
Auto Sync
Auto Fill
Unlimited Settings
Unlimited Databases
Priority Email Support
Works with Family Sharing
Lifetime Updates and Support