How to extract your data from MiniKeePass
You are a long-time MiniKeePass user. You have been using it daily for many years, and it just worked. But today it does not open and shows a scary message instead: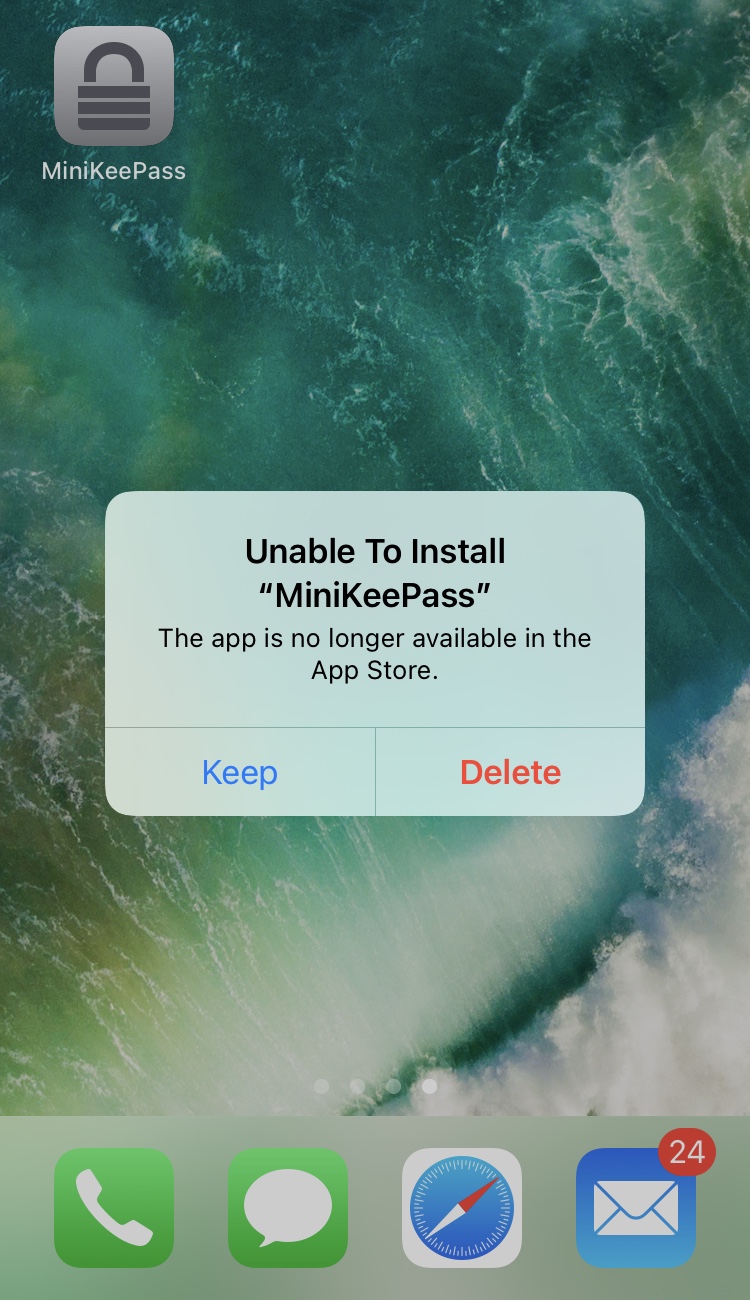 No worries! You still can extract your database from MiniKeePass (and transfer it to KeePassium).
Extract data from MiniKeePass
Install iMazing (macOS, Windows).

The app is well worth purchasing, but the free trial version is enough for this guide.

Connect your iPhone/iPad to the computer
Select your device in iMazing and tap Manage Apps.

Step 1: Click 'Manage Apps'

You will see the list of apps installed on your phone. Search for MiniKeePass.

Step 2: Find MiniKeePass

Right-click MiniKeePass and select Back Up App Data.

Step 3: Extract MiniKeePass data

Leave the default options, click Next, then OK.
iMazing will make a backup of your phone, extract MiniKeePass files and save them as "MiniKeePass.imazingapp" on your desktop.

Step 4: Data extracted successfully

Right-click the extracted file and rename it to "MiniKeePass.zip".
Double-click the archive to extract it. This will create a "MiniKeePass" folder on your desktop.
In that folder, open Container → Documents, and you will see your database files.

Step 4: Data extracted successfully
Transfer data to KeePassium
Go back to iMazing and select Files
Drag your databases to KeePassium.
That's it! Now you can open your database in KeePassium.
KeePassium was inspired by MiniKeePass, so the app will feel familiar. But KeePassium is a different app with many new features and improvements.
For more details, feel free to check our MiniKeePass migration guide and FAQ.